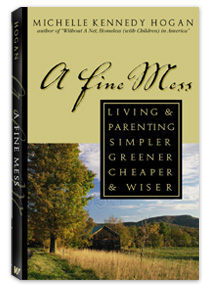 I was invited to write a review for an upcoming book by fellow blogger,
Michelle Kennedy Hogan
a while ago. Her title peaked my curiosity, "A Fine Mess: Living and Parenting Simpler, Greener, Cheaper and Wiser," because this is my own mission -- to help my children and me to live simply, albeit the mess maybe. My favorite quote from the book is:
"In the effort is the example, I believe."
And so I leave this with you as you contemplate Michelle's new book.
She starts out by asking a few questions:
What does money mean to my family?
And
what is our definition of success?
Or
how does one go from "making a living to making a life?"
These are all questions I've already asked myself, but if I am honest haven't really answered. But Michelle does.
A large part of the book speaks to green and inexpensive ways to raise a baby. Even a checklist on how to
save
money with a newborn and all the stuff they seem to need. At one point I started to get discouraged with all the nurturing, inspirational advice that I wished I'd had when I was pregnant. Where was this book then?! But don't despair if your kids are over five, as mine are, there are other fabulous insights shared on living your core values and raising kids simply, like eating well and instilling work ethic and joy of learning in the children.
There's a wonderful section on self-employment and creating multiple streams of income for yourself. As I read it I had my own list going and I'm happy to report I quickly came up with 20 products or services I could sell at our local Saturday/Farmer's Market.
She neatly parries the thrusts of "But I don't have enough money to start my own business" with multiple examples of small businesses I'd never thought of that could be run on a "shoestring" to start out.
Michelle includes charming anecdotes from her life -- like how she came to
not
be a cattle rancher, and the first time she tried making maple syrup. These are both enjoyed for their humility and humor, but also for the inside look at what living on a farm would be like (something I secretly crave).
And on days when she feels like hiding under the covers, her simple message
still
does not change. Instead she remembers why she does it. It is her unswerving belief that learning to live this type of lifestyle and "keeping these skills alive is so important in these times of great uncertainty." That "[surviving and living] without having to depend on Walmart or the grocery store to come to our aid" is the right and true course.
But what I really appreciate about Michelle Hogan's writing style in "A Fine Mess" is there is no heavy-handedness. No judgement. And that while she grows most of her food and raises chickens and sheep for meat and eggs, she's not adverse to fudge-covered Oreos and t.v.!
And she's honest:
"So rather than try and be the bastion of simple and ecological living, I try and make the changes where I can and make the effort. In the effort is the example, I believe. By home-schooling, growing our food, cooking from scratch, bringing our own bags to the store, recycling, reusing, not buying what we don't need, buying used, not going into debt and the like I hope to balance out the areas where we are not so green or thrifty."
(For her this is driving an SUV -- but what other rig would hold nine people?!)
Read this book. You'll come away with a charged mission and new life goals -- or at the very least the desire to buy (or make!) a baby sling.
Michelle Kennedy Hogan is the mother of six (almost seven) children. She is the author of 14 books including the 2005 bestseller, "Without a Net: Middle Class and Homeless (With Children) in America." Her work has appeared in The New York Times, The Christian Science Monitor, Salon.com, Redbook, Family Circle and many other publications. She contributes to NPR and frequently speaks to groups on topics like poverty, homelessness, frugality, homeschooling and going "green." She was an organic farmer for many years, but now makes her home in Green Bay, Wisconsin where she is developing an urban homestead.
Look for "A Fine Mess" in June 2009!