I have blatantly stolen this post from the folks at Osa Mountain Village for the sole purpose of entertaining you.
Christmas Traditions in Costa Rica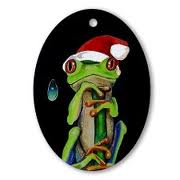 Christmas traditions in Costa Rica are full of the Latin American flavor,
but they are uniquely done the Tico way.
Snow...Snow...Snow... We Northerners hate snow, especially after a long winter. But Costa Ricans (Ticos) are fascinated by snow. They rarely, if ever, see the real thing because they are so close to the equator. The floats in the Festival de la Luz, which are decorated in fluffy white, draw much attention because of the oddity of snow.
December is a very special month in Costa Rica. The children begin their long "summer" vacation from school. The four month long rainy season has ended. The hot, muggy weather is replaced with dry, cooler temperatures of about 70 degrees. All working adults receive their aquinaldo from their employer. This is a bonus required by law and is equal to one month's pay. And of course, it is Christmas (Navidad) complete with so many festivals, parades and Costa Rican Christmas traditions.

Costa Ricans love to celebrate special occasions and many take vacations at this time of year. They have three main parades after the
beginning of the Christmas season, beginning on December 16th .

El Carnival - Dancers and musical groups from all over the country compete for the
best of show in costumes, dancing talent and music.
El Tope - A Parade of showy horses, beautiful horse-drawn carriages and famous
hand- painted ox carts. Originally, these carts were pulled by people until 1840, when the exporting of coffee exploded. The Las Carretas carts were then pulled by oxen, transporting coffee to the ports and bringing other goods back on the return trip. Decorating the carts began in the early 1900's. The San Jose Tope is the most famous parade. It is a grand parade that also includes floats, clowns and marching bands.
El Destile de Luces
-
A nighttime parade made beautiful with thousands of
Christmas lights. This parade is a favorite of the people.
There is so much more to the Holiday Season in Costa Rica. . .
We hope you can join us during this festive time next year in 2011!